The Global Youth Movement for Water (GYMW) was launched by the International Secretariat for Water with the support of the Swiss Agency for Development and Cooperation and the Senegalese Government during the 9th World Water Forum in Dakar, Senegal, to enhance their recognition, role, and impact of youth in triggering and supporting the necessary societal transformation for a water secure future for all.
The Movement has brought together over 300 youth-led organizations and allies from across 70 countries to influence decision-makers, increase youth's negotiating power and encourage action around the globe. The Movement provides visibility, credibility, and recognition to existing and emerging organizations and networks.
We all share a common objective, the desire to harness commitments, political will and ACTION to create a water-secure world for all.
In this Community we will share updates and opportunities, we will work and learn together towards amplifying youth voices and mobilising youth across the globe on water issues.
By youth. For youth. With youth. We are stronger together!
By working together, we can #FillUpTheGlass.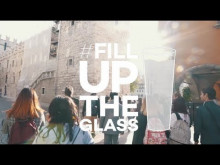 #FillUpTheGlass
We welcome you to join us on this journey, click the

request to join

 above to be part of this movement! For more info check out filluptheglass.org
Thank you
Global Youth Movement for Water Team